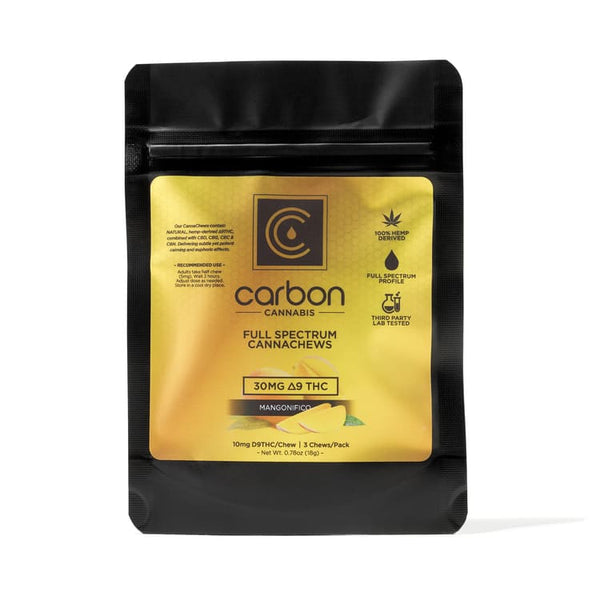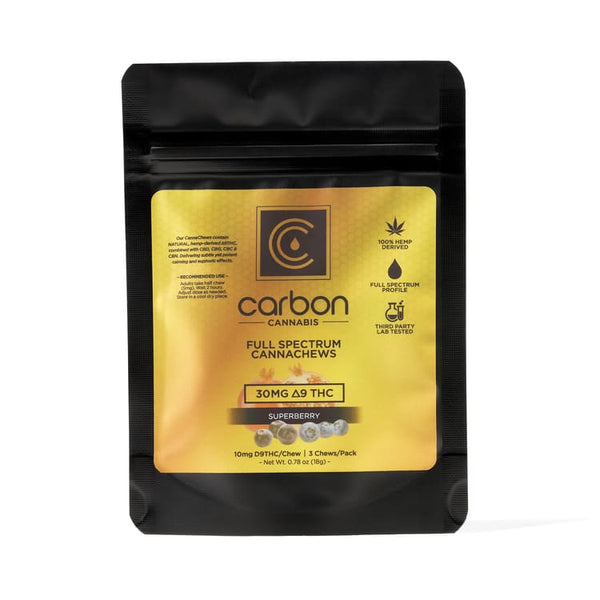 For those looking for a bit more elevation; SuperBerry, Mangonifico and Kiwi-Lime Flavored Delta-9 THC CannaChews!
We've carefully crafted these chewy confections using our trusted CO2 full spectrum oil loaded with REAL, NATURAL, hemp derived Delta-9 THC. No conversions or harsh solvents EVER.
With 10mg D9 THC and nearly 50mg of total cannabinoids per piece, they bring a subtle, yet potent calming & euphoric effect. No medical card or recreational program needed! 
***** WARNING******

MUST BE 21+
THIS PRODUCT CONTAINS THC AND IS PSYCHOACTIVE. DO NOT DRIVE OR OPERATE HEAVY MACHINERY.
How is this legal??
The 2018 Farm Bill defines hemp and hemp products as anything with .3% THC by dry weight or volume. This means that for every 1g (1000mg) of weight, we are allowed 3mg of THC. Our CannaChews weigh at least 6g (6000mg) each, making our 10mg piece nearly half the legal limit of THC. (10mg/6000mg=.16%) This means they are a fully compliant and legal hemp product available nationwide.
Dosing Guidance
START LOW AND GO SLOW! Adults Eat 1/2 chew (5mg), wait 2 hours. If desired effect is not reached, increase dosage.
Flavors
SuperBerry flavor is a unique superfruit blend of Blueberry, Pomegranate, and Acai that make for a perfectly sweet and tart tasting edible. It's hard to just have one!

Mangonifico flavor, as you guessed, is a great choice for mango lovers. It always leaves you wanting more of its smooth, tropical and refreshing island taste.
Kiwi-Lime flavor is a tantalizing blend of zesty lime and ripe kiwi. This tropical fusion delivers a burst of tangy sweetness that transports you to paradise. With its invigorating allure, these gummies leave you craving more.
Ingredients
Less than .3% THC guaranteed
100mg+ total active cannabinoids (TAC) each
1 serving = 1/2 chew = 5mg THC
20 servings, or 10 pieces
Store in a cool, dry place

Ingredients: sugar, tapioca syrup, water, gelatin, sorbitol, full spectrum hemp extract, citric acid, organic pomegranate, organic açaí, natural blueberry flavor, potassium sorbate. (coating: sugar, citric acid)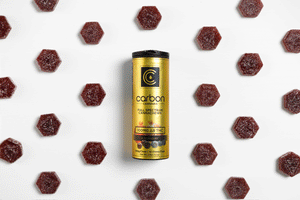 Crafted For Quality
Pure
Potent
Organic
Full Spectrum Profile
Natually Occuring Delta-9 THC
100mg Total Cannabinoids Per Piece
Join The Carbon Community
Signing up for our email newsletter automatically enters you into our monthly product giveaway!
You will also be the first to know of upcoming events, product launches, special offers and everything Carbon Cannabis.