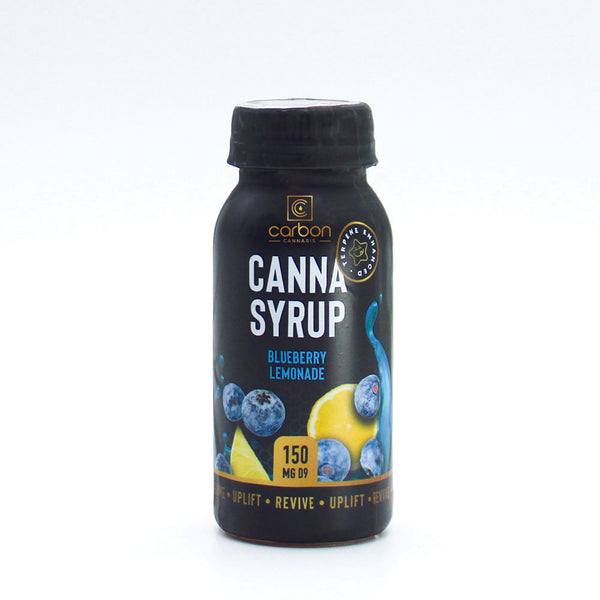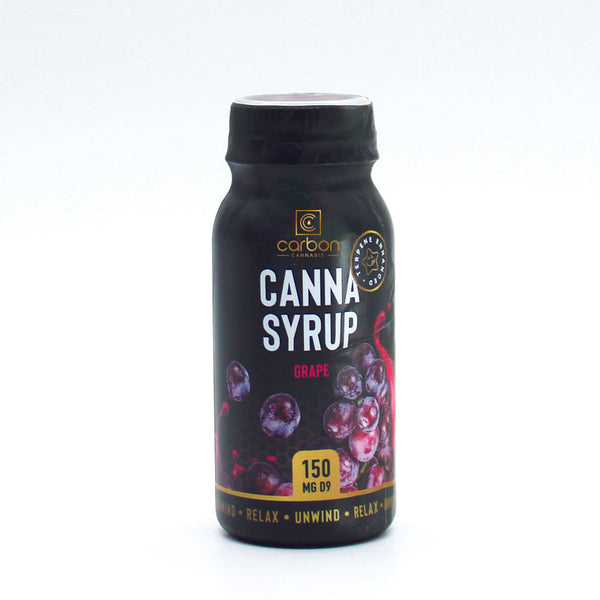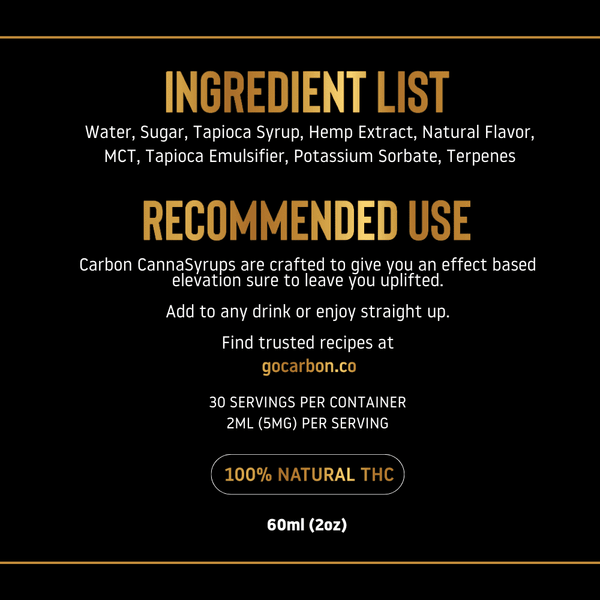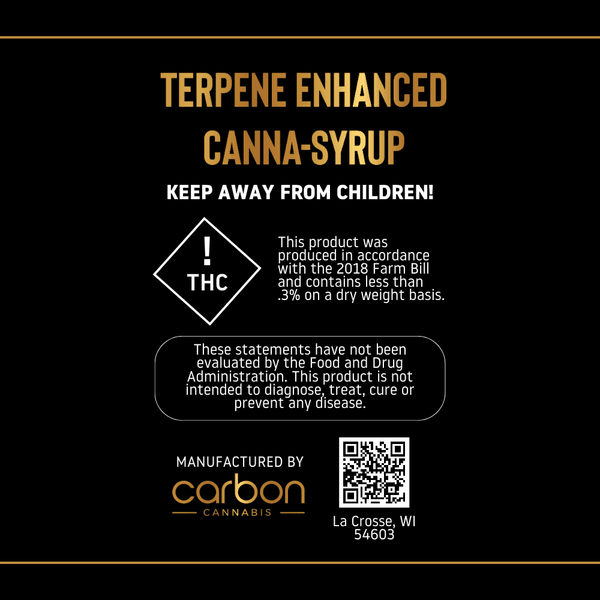 Contains 150mg D9 THC
Looking to elevate your stash?
Look no further than D9 CannaSyrup - an all-natural THC syrup boosted with functional terpenes for a potent and delicious experience.

Crafted with only the highest quality ingredients, including naturally occurring THC and effect-based terpenes, D9 CannaSyrup is the perfect addition to your favorite beverages or can be enjoyed straight up.
To use, simply add a splash to your favorite soda, juice, or cocktail for a canna-infused twist. Each serving delivers a reliable, heavy dose of THC, so you can trust that you're getting consistent elevation every time.
***** WARNING******

MUST BE 21+
THIS PRODUCT CONTAINS THC AND IS PSYCHOACTIVE. DO NOT DRIVE OR OPERATE HEAVY MACHINERY.
How is this legal??
The 2018 Farm Bill defines hemp and hemp products as anything with .3% THC by dry weight or volume. This means that for every 1ML (1000MG) of weight, we are allowed 3MG of THC. Our CannaSyrups contain at least 60ML (60000MG) each, making the bottle well below the legal limit of .3% THC. (150MG/6000MG=.25%) This means they are a fully compliant and legal hemp product available nationwide.
Suggested Use
START LOW AND GO SLOW!
Adults consume 1 capful (5MG THC), wait 2 hours. If desired effect is not reached, increase dosage.
Shake well before using.
Refrigerate after opening.
Flavors
BlueBerry Lemonade - Revive & Uplift:
Looking for a delicious and refreshing way to revive your senses and uplift your mood? Try our BlueBerry Lemonade CannaSyrup! This delicious flavor is bursting with juicy blueberries and tangy lemon, creating the perfect blend of sweet and sour. Whether enjoyed straight up or added to your favorite drink, this syrup is the perfect way to energize your day and uplift your spirits.

Grape - Relax & Unwind:
Take a break from the stresses of daily life and enjoy our Grape CannaSyrup. This sweet and juicy flavor is the perfect way to relax and unwind after a long day. Whether enjoyed straight up or added to your favorite drink, our Grape CannaSyrup is the perfect way to unwind and let go of your worries.
Ingredients
Less than .3% THC guaranteed
150MG+ total active cannabinoids (TAC)
1 serving = 1 capful = 5MG THC
30 servings, 150MG THC total
Store in a cool, dry place. Refrigerate after opening for best results.

Ingredients: Water, Sugar, Tapioca Syrup, Hemp Derived THC, Flavor Extract, MCT, Tapioca Emulsifer, Potassium Sorbate, Terpenes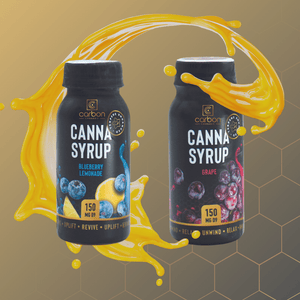 Crafted For Quality
Pure
Potent
Organic
Full Spectrum Profile
Natually Occuring Delta-9 THC
150mg THC per bottle
Our Process
Join The Carbon Community
Signing up for our email newsletter automatically enters you into our monthly product giveaway!
You will also be the first to know of upcoming events, product launches, special offers and everything Carbon Cannabis.